Paco Rabanne is a Spanish-born French fashion designer known for his avant-garde and unconventional designs. Here's a brief overview of his history as well as a a few pieces worth investing in.
Who is Paco Rabanne?
Francisco "Paco" Rabaneda Cuervo was born on February 18, 1934, in Pasajes, in the Basque country of Spain. Due to the Spanish Civil War, his family fled Spain when he was just 5 years old, settling in France.
Rabanne studied architecture at the National School of Fine Arts in Paris. However, instead of pursuing a conventional architecture career, he ventured into jewelry design for major fashion houses such as Balenciaga, Givenchy, and Dior.
Paco Rabanne presented his first fashion collection in 1966, titled "12 Unwearable Dresses in Contemporary Materials." True to its name, the collection featured dresses made of unconventional materials such as metal and plastic, which were interconnected by metal links. This innovative approach set him apart and earned him a reputation as a fashion maverick.
Signature Style (Late 1960s-1970s)
Rabanne became well-known for his unconventional designs, including dresses made of metal rings, plastic discs, and other non-traditional materials. His approach was both avant-garde and futuristic, pushing the boundaries of fashion design.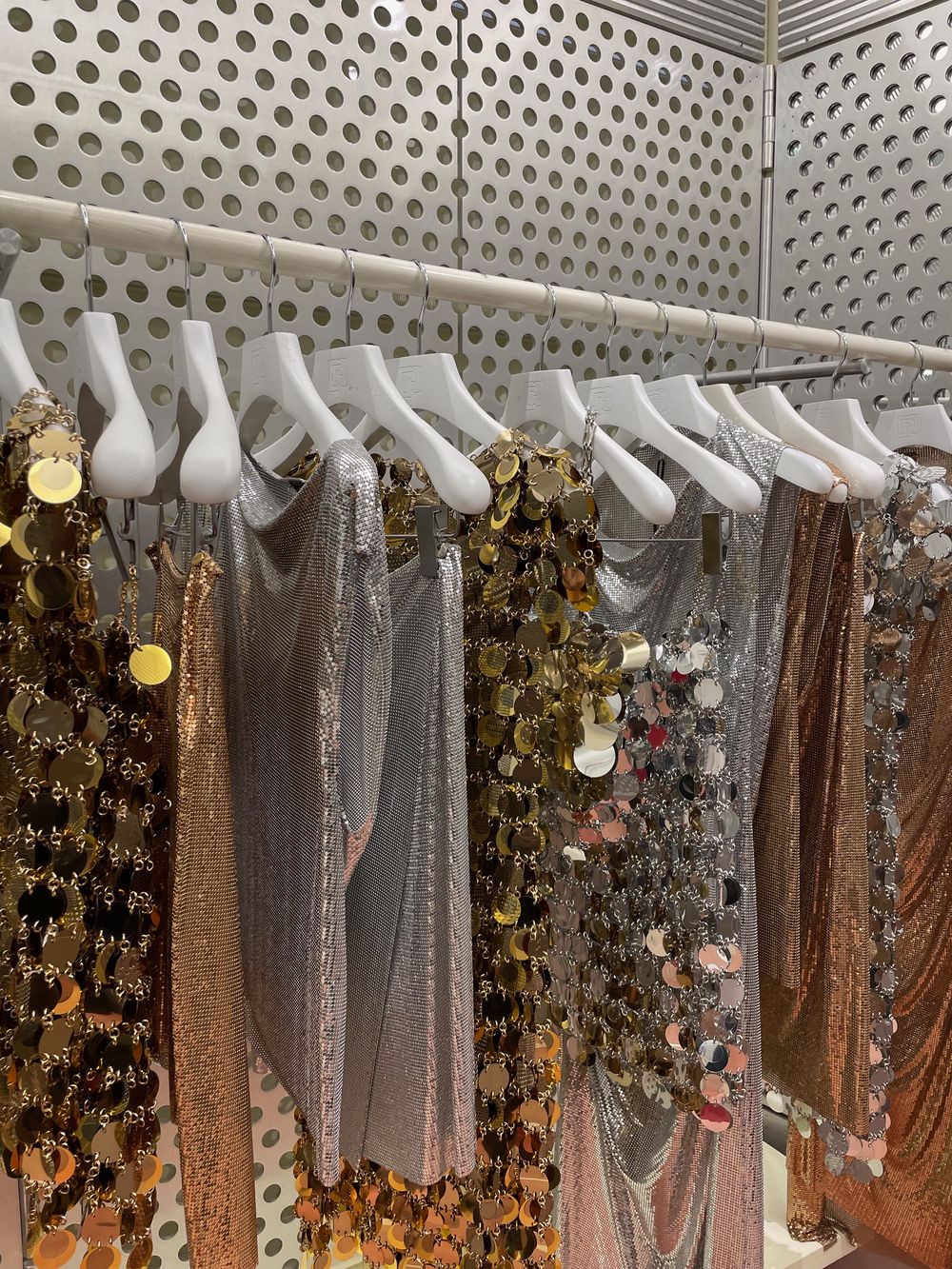 Perfume
In 1969, Rabanne introduced his first perfume, "Calandre." This was the start of a successful line of fragrances for both men and women. Perhaps one of the most recognized is "1 Million" for men, launched in 2008, and its counterpart for women, "Lady Million," launched in 2010.
Decline in the 80s
While the 1980s saw a decline in the popularity of Rabanne's clothing line, his brand remained influential, especially in the perfume industry. He eventually handed over the reins of his fashion house to other designers, but his influence can still be felt in the brand's contemporary collections.
Paco Rabanne retired from the fashion world in the late 1990s, but his brand, under the guidance of new creative directors, continues to produce fashion collections and fragrances that capture the essence of Rabanne's unique and innovative style.
Throughout his career, Paco Rabanne's designs have been worn by various celebrities, have appeared in movies, and have influenced many contemporary designers. His work has consistently challenged the status quo, making him a significant figure in 20th-century fashion history.
A Paco Rabanne Revival
If you ask me, there is a Paco Rabanne revival happening in the fashion world as the desginers' clothing comes back into fashion.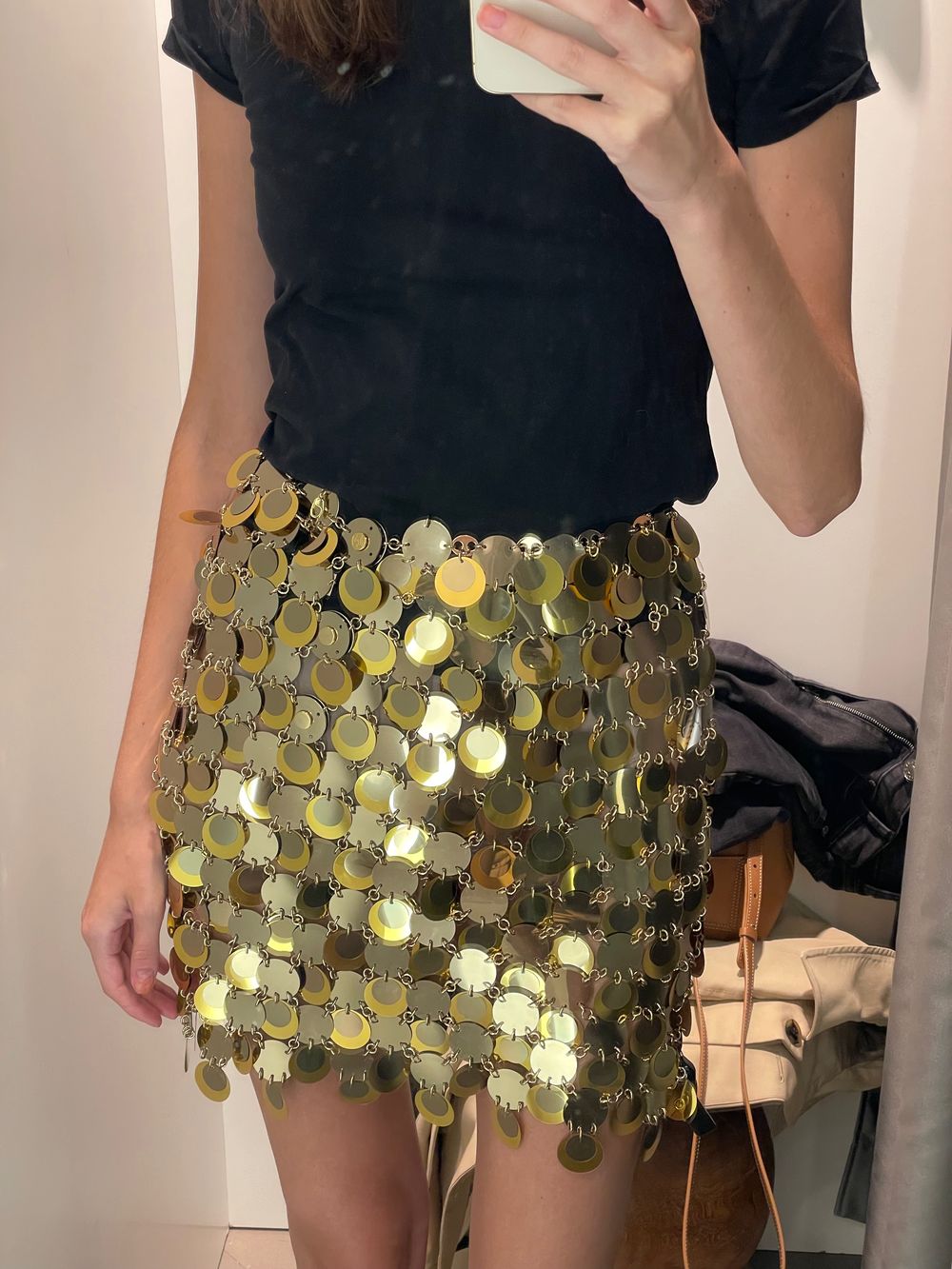 Iconic Paco Rabanne Pieces
Paco Rabanne has introduced a range of products over the years that have left a lasting impression on the fashion and fragrance worlds. Some of the most iconic products from the Paco Rabanne brand include:
Chainmail
Rabanne's interest in unconventional materials led him to explore the use of metals in fashion. Inspired by his architectural background and a desire to reimagine the fabric's very notion, he began crafting garments from metal rings and discs, creating a "chainmail" effect. This approach was groundbreaking and formed the backbone of his fashion identity.
The chainmail dresses quickly became emblematic of 1960s avant-garde fashion. These shimmering, fluid, and futuristic designs were unlike anything the fashion world had seen before. They were both glamorous and edgy, capturing the essence of the Space Age aesthetic that was popular during that era.
Rabanne's chainmail designs have graced many celebrities over the years. For instance, in the late 1960s, iconic actress and singer Françoise Hardy wore a Paco Rabanne chainmail dress on the cover of her album "Ma jeunesse fout le camp."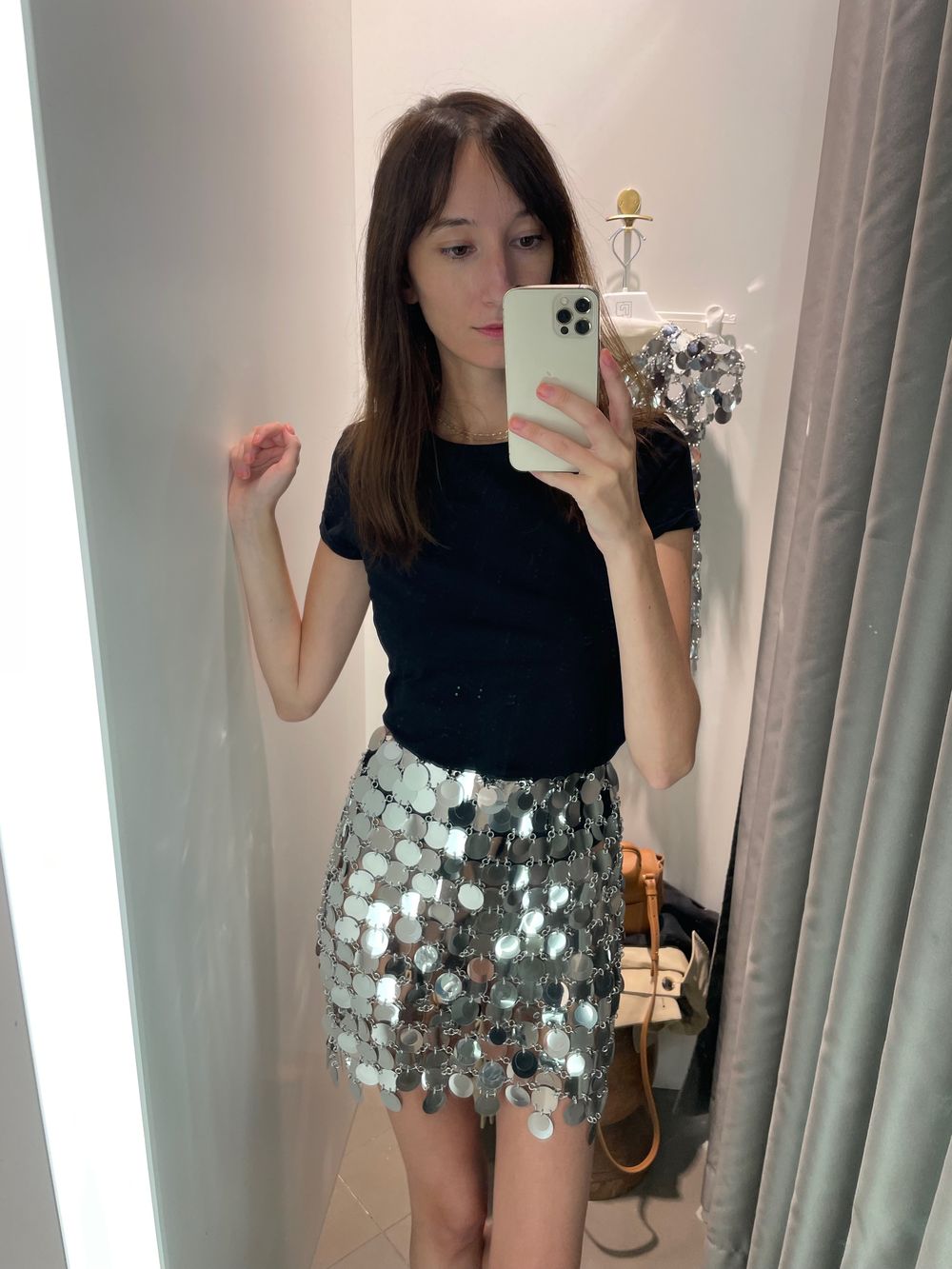 Metallic Dresses
Paco Rabanne is perhaps best known for his groundbreaking and avant-garde approach to fashion design in the 1960s. His metallic dresses, made from unconventional materials like metal discs, plastic, and linked chains, stood out as revolutionary at the time and remain some of the most iconic pieces in fashion history.
Audrey Hepburn famously wore a Paco Rabanne dress in the movie Two for the Road (1967) similar to this one: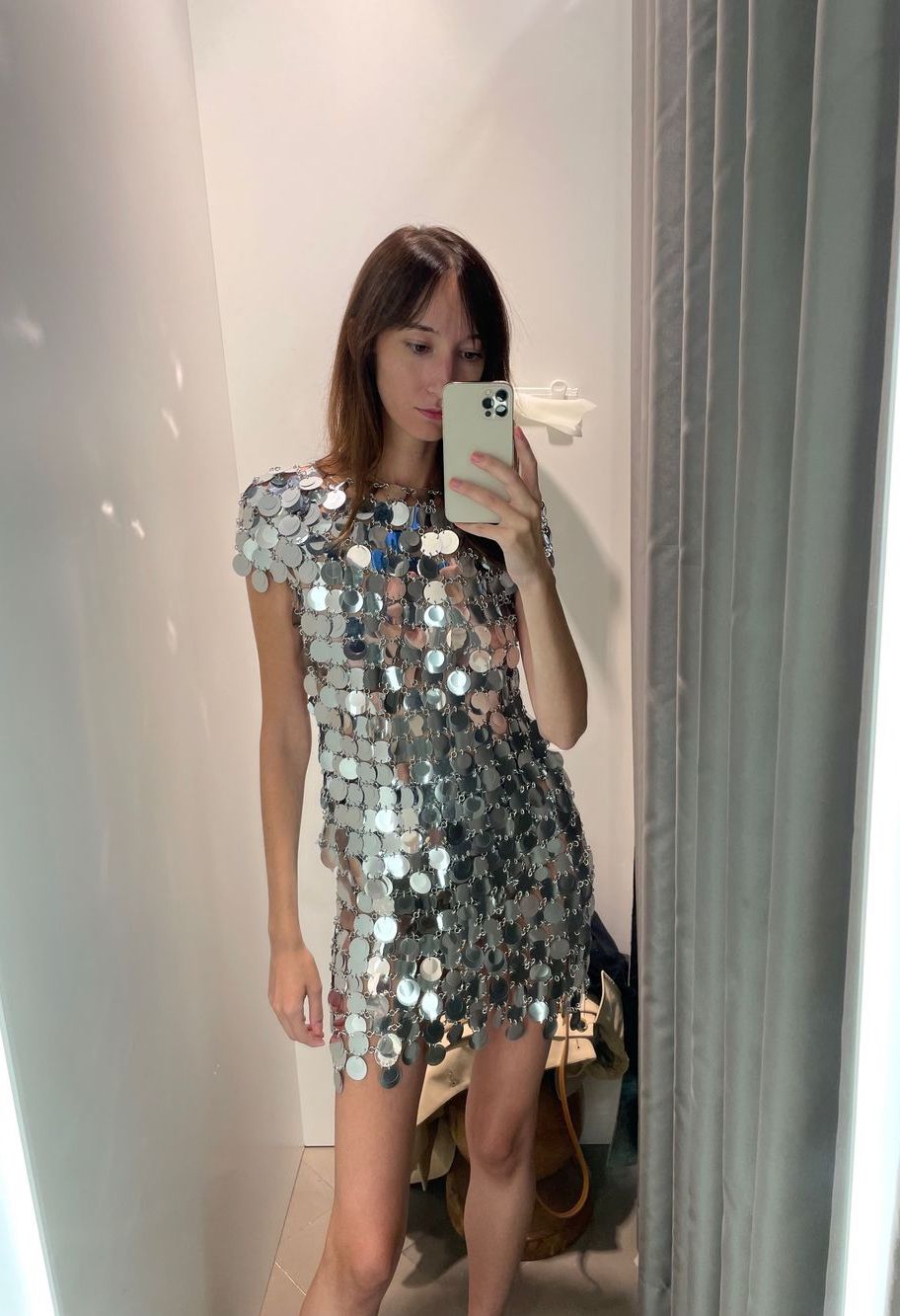 "Le 69" Bag
This iconic handbag, first designed in the late 1960s, is made up of hexagonal plastic discs linked together. Its unique design and modish look made it a popular accessory, capturing the spirit of the era.
Paco Rabanne Disc Top Review
After trying on several pieces and finally deciding on the disc top in silver, I have to say that Paco Rabanne pieces are truly stunning works of art. You will feel like a celebrity when wearing them, and the way they reflect light, means all eyes will be on you!
The pieces are not the most comfortable, and you'll need to wear a skin-color slip beneath them, but they are so totally worth it!